We can assist with the smallest of fireplace installations to complete custom designs, fireplace restorations, and masonry.
Fireplace Concepts represents many major fireplace manufacturers. After 25 years serving the Toronto area , we have sifted through much of what is on the market and have retained those that best suit our clients tastes. There is so much to choose from and many of the products start looking the same after a while. Whether you want double sided, direct vent gas, suspended, zero clearance, or just an insert we can help you choose the right model. Depending on the application, we will suggest one model line over the other as we have to look at factors such as heat output, flame aesthetics, proportions, cleanliness of the unit itself, clearances and dimensions. Upon determining the client's needs and looking at the room size and configuration, we will suggested what we feel is the appropriate fit while taking in to account varying budgets. When you're ready, give us a call and come by our showroom to speak with an expert and discuss prices.
From concept to installation and everything in between
We build and instal both residential and commercial spaces with the fireplace as the focal point, and in some cases with every element custom designed, fabricated and installed, on a truly grand scale. We will help you design the fireplace of your dreams using just about any material imaginable as long as it is safe. Naturally, you're not limited to a gas fireplace, we can build a wood-burning fireplace,wood stove installation a gas log set or even an electric fireplace in areas and spaces where this is the only option.
Everything is considered and discussed including the solving of negative air flow issues, helping you select a design and product that will provide the most appropriate amount of heat for the room.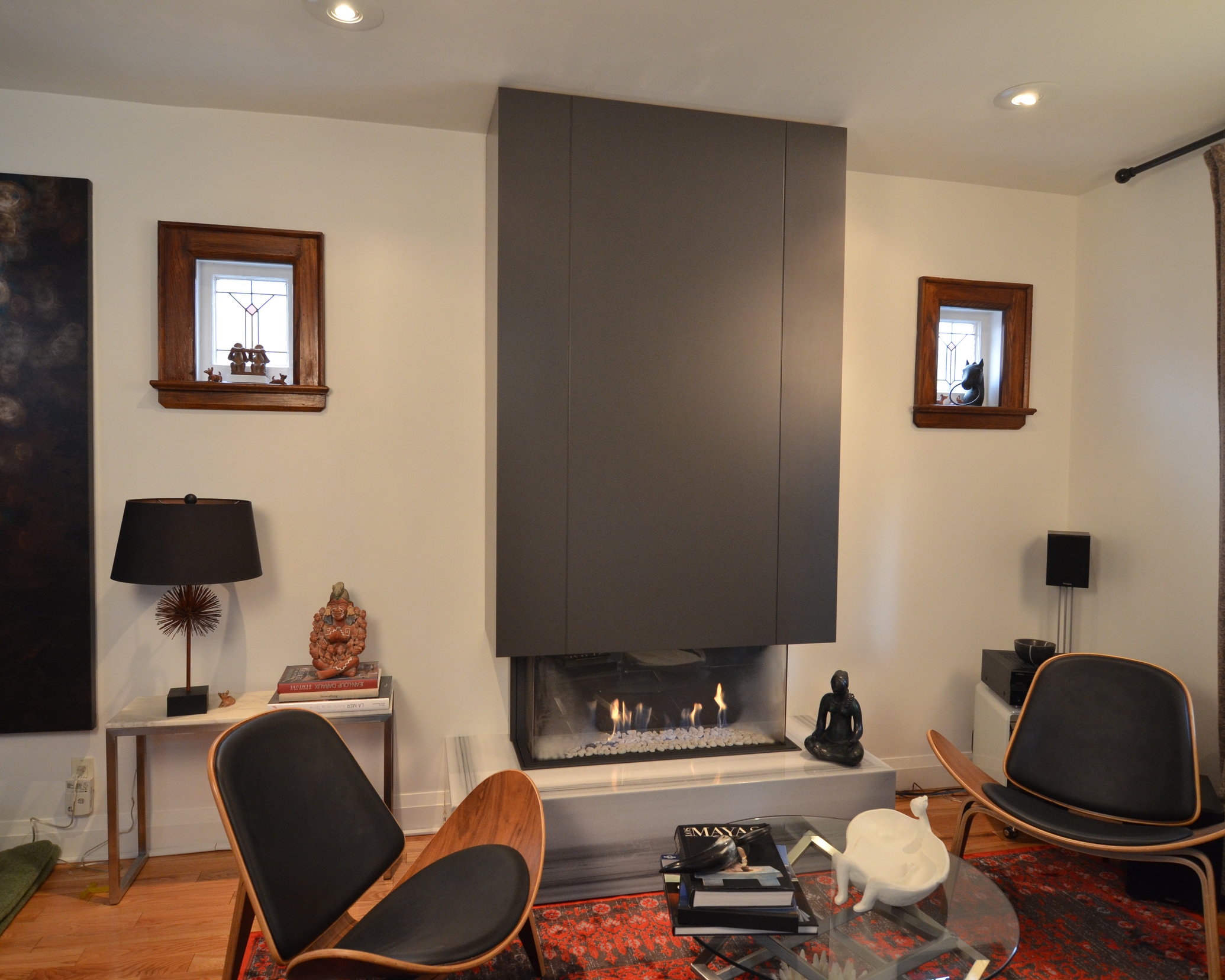 There is a definite charm to having a fireplace in your home – a fire can provide warmth, comfort, and increase the overall experience of spending time in your home. We understand this allure better than anyone, and we have built a team of the best fireplace craftsman so you can be sure that yours will have a distinctive look that fits the style of your home.
Crafted specifically with your backyard in mind, we provide the very best in artistic outdoor heating. Whether you're looking to host a garden party, or merely carve out an oasis of peace and luxury, our line of outdoor fireplaces are sure to captivate the eye and imagination, giving you a natural space for leisure and relaxation.
There is the growing condominium market in downtown Toronto where wood or gas fireplaces are not always an option. With the elimination of the need for venting and gas lines the fireplace can be located anywhere within the space. We carry an array of electric fireplaces that will allow us to achievethe same level of design as in a home.
Commercial products are typically "one offs" and can consist of pretty much anything that can be dreamed up. We can take care of all aspects of the project, including control system design and all field testing.
We offer a variety of styles, profiles, and decorative elements that can work in any room depending on the overall design and architectural style of a given space. Here are a few samples of different fireplace styles offered by Fireplace Concepts for a variety of room settings and clients.
Given our location in one of the oldest areas of Toronto, our years of experience with old houses has allowed us to see how fireplaces were constructed depending on what party of the city the home was constructed and when it was constructed. As long as there is a cavity and the chimney flue up to the roof, we can successfully restore any fireplace whether back to wood burning or to some type of open faced gas setup. We would typically open up the masonry further in order to properly do our work. The firebox can then be reconstructed either at floor level or elevated to a new more linear proportion.
Many fireplaces we restore are constructed in what is called a Rumford format. This is a 200 year old design that originated in England with its key to a properly functioning fireplace being in the transition in to the flue. Eliminating flat spots on the underside of the opening is critical in preventing smoke spillage. It is achieved using a series of segmented clay throats grouped together over the firebox opening. We endeavour to use these throats in as many rebuilds as possible no matter what the shape or proportion. The reconstruction process is outlined in the group of photos in this section.